FLANGED SHAFT END SUPPORT BLOCKS (WITH FEET):
PDF Catalogue of Linear Bearings
These Shaft End Support Blocks for clamping the shaft ends have a guaranteed height tolerance of ±15µ.

The WB55's are manufactured from spheroidal graphite cast iron, offering high rigidity and high dimensional precision that permits full mutual interchangeability.

The WB56's are made from aluminium with the same tolerances as WB55. However they are less stiff due to the lower modulus of elasticity.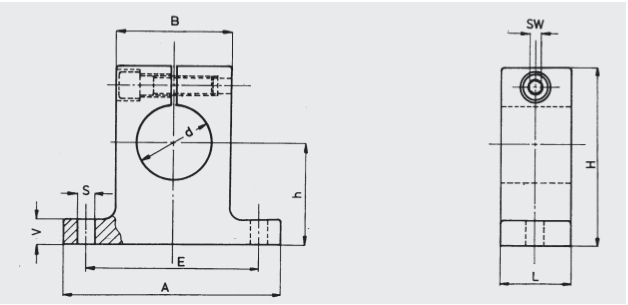 | | | | | | | | | | | | | |
| --- | --- | --- | --- | --- | --- | --- | --- | --- | --- | --- | --- | --- |
| Cast Iron | Aluminium | d | h | H | A | B | L | E | S | V | SW | .stp File |
| WB55-008 | - | 8 | 15 | 27 | 32 | 16 | 10 | 25 | 4.5 | 5 | 2.5 | |
| WB55-012 | WB56-012 | 12 | 20 | 35 | 42 | 20 | 12 | 32 | 5.5 / 4.3 | 5.5 | 3 | |
| WB55-016 | WB56-016 | 16 | 25 | 42 | 50 | 26 | 16 | 40 | 5.5 / 4.3 | 6.5 | 3 | |
| WB55-020 | WB56-020 | 20 | 30 | 50 | 60 | 32 | 20 | 45 | 5.5 / 4.3 | 8 | 3 | |
| WB55-025 | WB56-025 | 25 | 35 | 58 | 74 | 38 | 25 | 60 | 6.6 / 5.3 | 9 | 4 | |
| WB55-030 | WB56-030 | 30 | 40 | 68 | 84 | 45 | 28 | 68 | 9.0 / 6.4 | 10 | 5 | |
| WB55-040 | WB56-040 | 40 | 50 | 86 | 108 | 56 | 32 | 86 | 11 / 8.4 | 12 | 6 | |
| WB55-050 | WB56-050 | 50 | 60 | 100 | 130 | 80 | 40 | 108 | 11 / 8.4 | 14 | 6 | |
| WB55-060 | WB56-060 | 60 | 75 | 124 | 160 | 100 | 48 | 132 | 13.5 | 15 | 8 | |
| WB55-080 | - | 80 | 100 | 160 | 200 | 130 | 60 | 170 | 17.5 | 22 | 10 | |