HOME > LINEAR BEARINGS > SHAFTS & SUPPORTS > PROFILED SHAFTS
PROFILED STEEL SHAFTS WITH STEEL OR ALUMINIUM SUPPORTS:
PDF Catalogue of Linear Bearings
Two types of shaft support rails supplied complete with hardened and ground shafts bolted on. These are the most compact version of shaft supports.

ALUMINIUM TYPE WN00
Available in lengths up to 3650mm from stock with a height tolerance of +/- 20 microns

STEEL TYPE WP11
Available in lengths up to 6000mm. Steel is C45.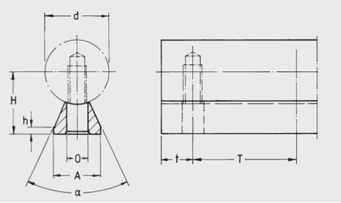 Aluminium
Steel
d
A *
H
(±0.02)
h
alpha (deg)
T
t min
O
Bolt Size
Weight kg/m
.stp File
WN00-312
12
11
14.5
3
50
75
20
4.5
M4
1.1
WN00-316
16
14
18
3
50
75
20
5.5
M5
1.9
WP11-316
16
14
18
3
50
75
5.5
M5
2.5
WN00-320
20
17
22
3
50
75
20
6.6
M6
2.9
WP11-320
20
17
22
3
50
75
6.6
M6
3.8
WN00-325
25
21
26
3
50
75
20
9
M8
4.4
WP11-325
25
21
26
3
50
75
9
M8
5.6
WN00-330
30
23
30
3
50
100
20
11
M10
6.2
WP11-330
30
23
30
3
50
100
11
M10
7.6
WN00-340
40
30
39
4
50
100
20
13.5
M12
11.0
WP11-340
40
30
39
4
50
100
13.5
M12
13.4
WN00-350
50
35
46
5
50
100
20
15.5
M14
17.0
WP11-350
50
35
46
5
50
100
15.5
M14
20.2

* Tolerance of ±0.02mm on WP11 type